I started this project last year in an attempt to make one of the newer style slytherin-house scarves, and got bored. Cause really... stockinette can get boring.

So how do you mix it up? with needle size changes!

What started out as a scarf became an easy EASY quick shrug - nothing complex. Sizing is achieved through needle change, and no armhole shaping is needed - it's knit flat and then the sleeves are seamed up the sides.

This was done in a cheap acrylic but you can knit it up in a softer yarn if you'd like. I used a carron simmply soft in light grey for the stripes, but if you'd like a solid colour, one skein of the Red Heart is enough.

What You will need:
-about 300 yds of a worsted weight yarn (I used Red Heart Super Saver in Hunter Green, 1 skein = 364yds. I had plenty of yarn left over! For the stripe pattern, you'll need about 60 yds of the contrasting color. I used Caron Simly Soft in grey heather)
-1 set of size 11 US straight needles
-1 set of size 17 US straight needles

STRIPING PATTERN:
MC: 28 Rows
CC: 4 Rows
MC: 6 Rows
CC: 4 Rows
MC: 27 Rows
CC: 4 Rows
MC: 6 Rows
CC: 4 Rows
MC: 13 Rows

DIRECTIONS:
1. CO 47 stitches onto the size 11 needles knit in STst for 90 rows [in pattern if desired]. This will be the first sleeve.
2. Switch to larger needles, knit in STst for 40 rows.
3. switch back to smaller needles, and knit 90 rows (in reverse pattern).
4. BO.
5. Seam the tighter knit sections together. I suggest starting at the armpit end for a smoother, tighter seam. Weave in ends.



Ta-da!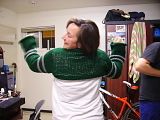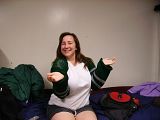 X-posted to
lucky_orion and
hp_knitting