i bring to you.. my first project on DPNS (double pointed needles) that actually worked. I was never really able to get the hang of them before, but once i did - i LOVED them! I think i may actually prefer them to circulars, but we'll see. Anyway, this project is from the winter 2004 issue of Knitty, and is called "Miss Dashwood". knit on size 6 US needles (circular and then switched to DPNS which were fab) in Bernat CottonTots ("sunshine" - the cutest yellow ever, 100% cotton). It was a surprisingly easy pattern, except for some knit-4-togethers which were hard on small needles. The hat, i dont think you can tell from these pics, has a great little scalloped edge made using a crazy-ass technique called a "Picot Cast-On", where you knit-cast-on 5, Bind of 2 and repeat the whole way around. I didnt take any pics of them - but there are cute buttons and ear flaps on the hat, too.

Normally I dont do baby stuff, but April, my roomie, needed a baby-shower gift, and i thought - hey, hats are easy and cute- and who doesnt love hand-made stuff for baby? So i offered to make it for her.



Clickable thumbnails, even!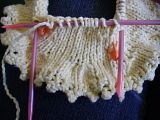 Doing well! Right after I switched to DPNS.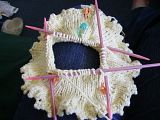 More DPN shots. I love the way stuff on DPNS just LOOK. Ciruclar just looks tubish, but DPNs look stylish!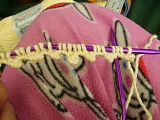 That Picot Cast-On.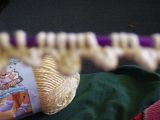 I'm into artsy pics.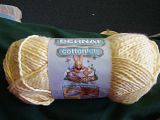 The actual skein of yarn


Done except for the ear flaps! I figure my stuffed octopus had the same size head as a 0-3 month old baby.